History of the korat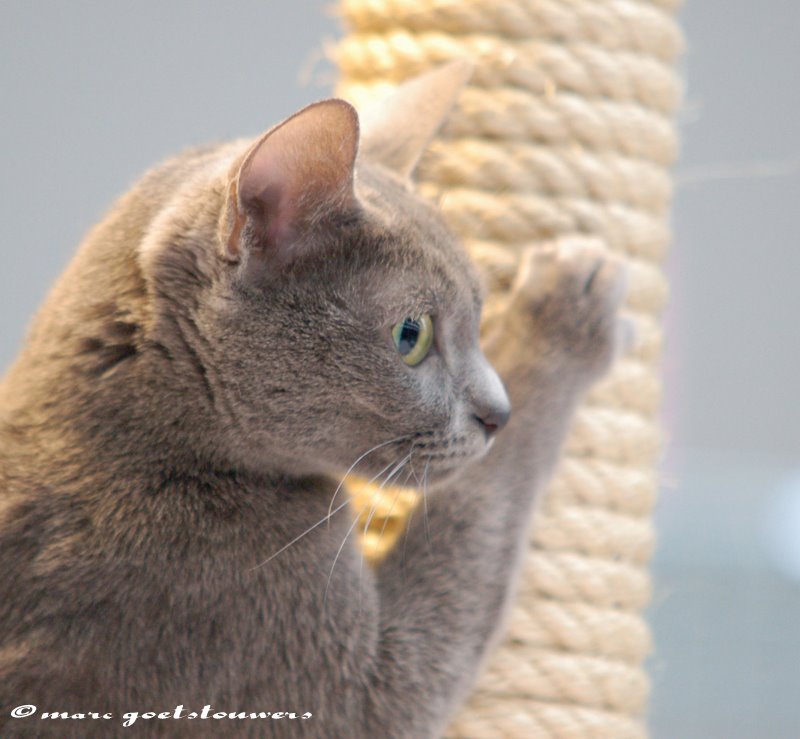 Korats are from Thailand
In their native country Thailand, the Korats were called Si-sawat for many centuries. This name means: He who brings happiness.
In the 19th century, Chulalongkoen - also known as King Rama V - changed the name into Korat, referring to the Korat area (Nguyen Cao Khorat) in Thailand.
Korats bring luck
The race is already described in the Smud-Koi (poem book about this race of cat), an old papyrus book that has been preserved in the National Museum in Bangkok. It dates back to the time of the Siam kings of the Ayuthia dynasties (1350 - 1767). In this book, the 17 species of good luck cats from the old country of Siam are described. The Korat is described as follows: "The hairs are soft, with grey ends and a silvery appearance to the roots, the colour of Dok-Lao (silver coloured flower); their eyes shine like dew-drops on a lotus leaf."
The introduction of the Korat in the United States
At the end of the 19th century, Korat cats were introduced into the United States. Only in 1959 people started breeding with these cats; a couple of Korats, which were named Nara and Darra and which were a gift to the American ambassador in Thailand, were used to breed with. They were sent to Mrs. Jean Johnson in the United States, who had already been fascinated by these cats since she visited Siam, as the kingdom was then still called, in 1947. She had actually been looking for a Siamese cat, but came into contact with the Korat and was told that they and not Siamese cats were the most important local felines. Twelve years later she came into the possession of a couple of these "special cats' and they used them to start a breeding programme with.
The introduction of the Korat in Europe
Korats only reached Britain and the rest of Europe in the seventies. To be more exact, the first Korat cat in Great Britain entered the country on March 11th, 1972: a five week pregnant cat named Saeng Duan and an unrelated male kitten called Sam. On Easter Sunday the cat had a nest of six kittens in quarantine; the first Korats which were born on the British islands. Twelve years later the race was fully recognized and got the championship status.
In the United States Korats were recognized as a race in 1966. In Britain the race was acknowledged in 1975. Today we can find Korats all around the world. However, they still remain a rare species, even in their country of origin.
Bibliography:
De kat - Jean-Luc Renck
De grote kattenencylopedie - Esther Verhoef
De nieuwe encyclopedie van de kat - Bruce Fogle
Geillustreerde kattenencyclopedie - Esther Verhoef-Verhallen
Het beste kattenboek - Uschi Birr
Katten - Yann Arthus-Bertrand
Katten - Albert Pintera
Katten - Deborah Gill
Catworld - Desmond Morris